Red Flag Titles – Channel 4 Comedy Blap
I animated the titles for Red Flag, a Channel 4 Comedy Blap sketch show created by and starring Kiell Smith-Bynoe. Directed by Big Red Button. Produced by Baby Cow. Theme music by Ross Butter.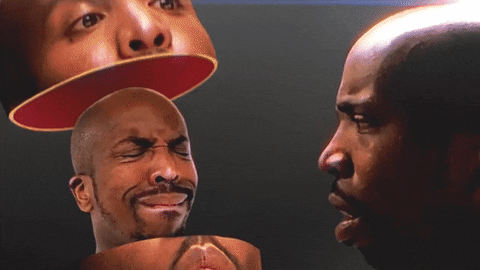 The job was a fast, slight chaotic turnaround. The upside being that I'd be left to knock out pretty much what I liked. I pitched some weird ideas based around the lyrics, "I missed the warning signs. Those Red Flags.", from a scratch theme tune by Kiell. We settled on a 70s soul inspired double exposure shot, of Kiell being freaked out by his Russian doll self with googly flag eyes.
One problem – Kiell was so busy that he didn't have time to come in for a proper shoot, but he would be around in the edit suite for a bit. Luckily I'm used to working quick and dirty. I created a storyboard and shot list with directions. The producer, Maisah Thompson, somehow found a spot at the edit suite with just the right lighting.
Even quicker and dirtier, it was filmed handheld on an iPhone. I spent most of my time cleaning up the footage, retiming, and pulling out keys. The footage actually resulted in a pleasingly soft filmed-on-tape aesthetic. I then went to town in After Effects.
Watch the full Red Flag Blap here: